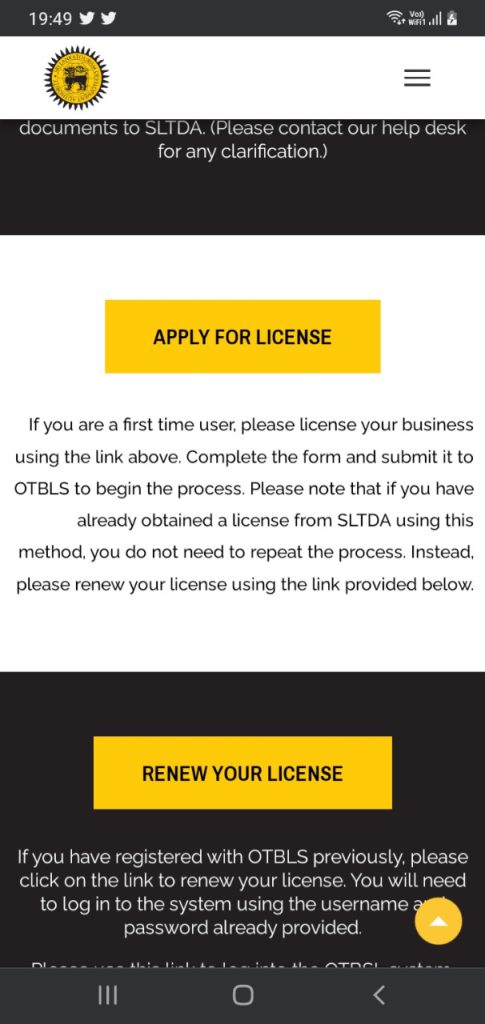 Your NTGL licence can now be renewed online for the year 2023. The following is what you need:
(a) A medical report issued by a registered MBBS doctor certifying that you are "physically and mentally fit to carry out business as a National Tourist Guide Lecturer and free from communicable diseases"
(b) A photo or scan of your current SLTDA licence, showing the last renewal date
(c) Letter of recommendation issued by SLINTGL (Call 071 728 3125 to have it sent to you online.)
(d) Passport-size photograph with red background
(e) A blank image or document
Click on the following link: https://sltda.gov.lk/en/online-registration-renewal
On the page in Image 1, scroll down and click on the yellow button "RENEW YOUR LICENCE".
On the page in Image 2, enter your email address and password if you have already registered with SLTDA. If not, click on the red button "CLICK HERE TO REGISTER". (If you have already registered but forgotten your password, there is an option to reset it via your email.)
On the page in Image 3, instead of "Renewed Success" in the image (this screenshot was taken after successful renewal) you will first see the option to pay Rs. 5425.64. You can make the payment only after submitting the required documents further below, so scroll down. Where you see "Already Submitted" for each required document in the image, you will see "Submit". Click on those "Submit" buttons one by one and you will be taken to a page where you can upload the relevant document. (For the police report, upload the blank image/document. A police report is not necessary when you submit the letter from SLINTGL, but something has to be uploaded there to be able to continue.)
After uploading all the documents, tick the square before final submission and click on the blue "Submit" button there.
Scroll back up now to make the payment. You can make the payment directly with a credit or debit card. (Or else, you have to make the payment at a bank and submit the receipt.) For online payment, a government surcharge will be added and the total will come to Rs. 5534.15.
Take part in the survey for tourism service providers by clicking on the relevant link in the top menu, which is also said to be necessary for licence renewal.
Call Mr. Neranjan at SLTDA on 0112 426 971 and ask for confirmation and further instructions. (You will be asked to send hard copied of some of the above documents.)
*The above details are based on my personal experience and provided with the best of intentions, but no responsibility can be assumed for any mishap that might happen in your case. If you are not comfortable with handling all this on your own, call the first number above to make an appointment to get it done at the SLINTGL Office.
Sujeewa de Silva