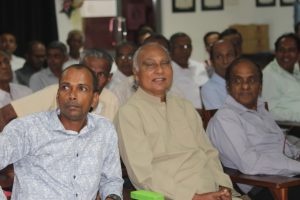 The background to the recent turbulence in the SLAITO as a response to a request made by the Chairperson of the SLTDA needs to be clarified. (the FT statement of the President of SLAITO)
The Sri Lanka Tourism Development Authority (SLTDA) is the regulatory body that undertakes training, handles the issue/renewal of licences, sets out standards and regulates fees and tariffs for the National Tourist Guide Lecturers (NTGLs). In simpler terms all official matters pertaining to the NTGLs come under their tutelage. One such important factor under their preview is to regulate and fix a standard fee that should be paid for the NTGLs for their services periodically. This is usually done upon a request made by the Sri Lanka Institute of National Tourist Guide Lecturers (SLINTGL) – the official body for the NTGLs – to the SLTDA. It is then passed on to the SLAITO with the recommendation of the SLTDA. The final outcome of the minimum fee for a given period is mutually agreed upon by the SLTDA, SLAITO and SLINTGL.
The current mutually agreed minimum fee, which is Rs. 2,500/-, came into effect in 2017. This was a mere Rs.300/- increment from the previous. Some of the more realistic DMCs, on their own or upon request of the NTGLs, have increased the min. wage per day to Rs.3,000 – 5,000. In some markets and for specialised tours the fees could even exceed this. The need for a realistic and reasonable increase was long overdue.
Therefore, we requested a $50/day minimum fee. This was officially brought to the notice of the SLTDA along with certain other detrimental issues to tourism, i.e. unlicensed, provincial and site guides being employed by unscrupulous DMCs, mainly in Chinese market; guides not being provided with proper accommodation in some hotels; difficulties in licence renewals etc. These were discussed and submissions were made verbally and in writing long before COVID-19 came into being. Since there was no positive response from the authorities, the general membership planned a protest, which was stalled at the request of the chairperson of the SLTDA on the promise that reasonable action would be initiated to address the issues.
There is no doubt that the current situation will have major economic and social setbacks worldwide. These will be extremely adverse effects on tourism especially. But to avoid and ignore the issues of the pre-COVID-19 period and to take cover behind it is not acceptable and would be deemed unreasonable.